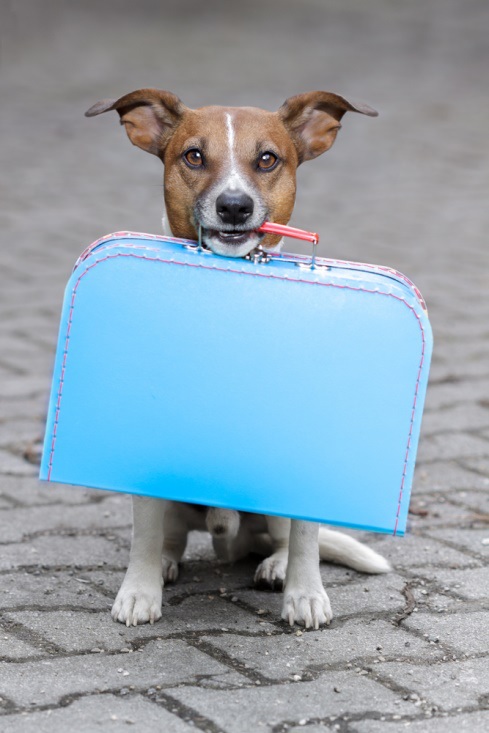 You love to see new places ― and so does your dog. You love to explore the great outdoors ― and so does your dog. You love to go on long walks ― and so does your dog. So, when you leave on a new adventure, why don't you take your pup along with you?
As long as you travel to a pet-friendly destination, you and your pooch can enjoy some time away from home. The following eight pawsome vacations are fur-ociously fun for you and your four-legged friend, so the next time you pack your bags, make sure you bring along a leash and a water bowl.
1. Carmel-by-the-Sea, California
The self-proclaimed canine Heaven-on-Earth, Carmel is as dog-friendly as a city gets.
Most hotels and restaurants as well as all beaches and walking trails are open to two- and four-legged visitors alike, which means you never have to leave your pooch behind on this trip.
Mission Trails Park will surely be one of Fido's favorite places to frolic, unless you have a water hound, who won't be able to resist a dive in the surf of beautiful Carmel beach.
2. Mendocino, California
A little-known coastal town in NorCal, Mendocino is bursting with beautiful wilderness just waiting to be explored by you and your furry friend. After your dog gets tired trekking the trails in Mendocino Headlands Park, you can rent a bike to explore the town ― which is full of canine-welcoming shops and restaurants ― or rent a canoe and head back out to the Big River Estuary to spot some amazing scenery.
3. Seattle, Washington
Big cities might not prohibit pets, but most aren't exactly accessible for those on four legs ― except Seattle. The metropolis of the Pacific Northwest is almost just a connection of municipal and national parks perfect for padding around.
However, one of the biggest pet perks of Seattle is in Warren G. Magnuson Park, where dogs have nearly nine acres ― including a winding gravel trail and section of freshwater beach along Lake Washington.
4. Branson, Missouri
Lovers of the outdoors must have this back-country hotspot on their must-see lists, and they should bring their hounds along for good measure. When you and Spot aren't howling to country music at any of the city's popular live venues, you can go off-leash on an adventure through Table Rock State Park, which has trails connecting so many lakes your dog won't ever be dry again.
5. Niagara Falls, New York and Ontario
Niagara Falls is for lovers, families, and pets. It's hard not to be astonished by the largest waterfall in the world, and you and your pup can wander around Niagara's parks on both sides of the border ― though the Canadian side has the better views.
Dogs love climbing trails to overlooks or wandering through the islands amidst the great Niagara River. With enough exercise, your pooch won't even mind relaxing while you wander the Canadian side's downtown, which contains good shopping, better food, and a great craft brewery.
6. Myrtle Beach, South Carolina
It's hard to imagine visiting Myrtle Beach without bringing a little along a furry friend. During the spring and summer, the oceans off South Carolina are unbelievably beautiful, and even dogs long to romp in the sand and surf.
If you visit during high tourist season, you might prefer to take your pooch to one of the city's Barc Parcs, where dogs have enormous playgrounds, replete with doggy showers, training structures, and more.
7. Gatlinburg, Tennessee
Every good American deserves a vacation in the iconic Smoky Mountains, and Gatlinburg offers one of the best jumping-off points for a country adventure.
City hounds will love the amenities of the downtown area, and owners and pets alike can hardly resist a trip up Gatlinburg Sky Lift to the top of Crockett Mountain, which overlooks the entire region. However, more outdoorsy pooches can blaze their own trail through the Smoky Mountain wilderness.
8. Tucson, Arizona
Admittedly, the months of June, July, and August in Arizona are hardly hospitable for any living creature, especially pups with delicate pads. However, during the rest of the year, dogs usually can't get enough of Tucson.
Furry friends are more than welcome in the colorful and lively downtown, but most would prefer to scramble through the canyons and forests around T-Town. Madera Canyon and Mount Lemon are the most accessible doggy favorites in the area.